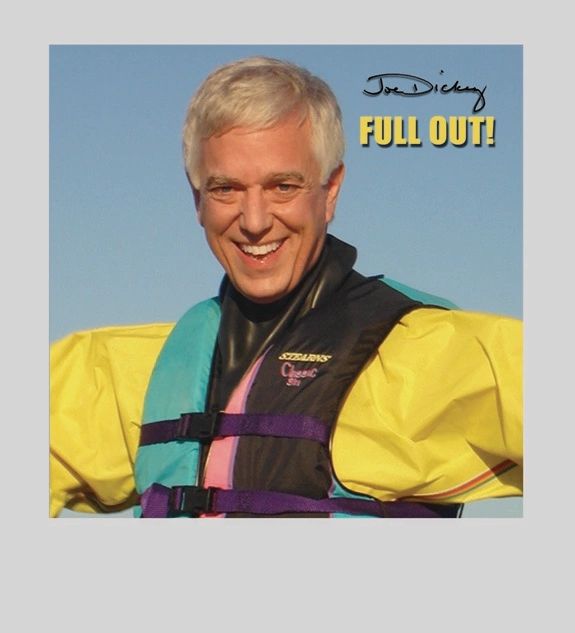 FULL OUT! (Joe Dickey) $20.00 CD

Ordinary Miracles
Corner of the Sky
Follow Your Dream
This Is the Moment
You Raise Me Up
I've Gotta Be Me
On the Sunny Side of the Street
The Impossible Dream
Pennies From Heaven / I Can't Give You Anything But Love
He Ain't Heavy
I Made It Through the Rain
Bridge Over Troubled Water
What a Wonderful World
Standing Right Next to Me


Unequivocal (Joe Dickey) $20.00 CD

Tomorrow
My Way
Perhaps Love
You'll Never Walk Alone
High Hopes
Born Free
That's Life
I've Got the World On a String
Tonight
The Rainbow Connection
The Rose
The Greatest Love of All
Climb Every Mountain
New York, New York


Walk With Me Into Paradise 45rpm (No Longer Available) Joe Dickey
April In Atlanta 45rpm (No Longer Available) Joe Dickey
Alive In the Tetons CD (No Longer Available) Robin Timm & Joe Dickey
Joy In Music CD (No Longer Available) Robin Timm & Joe Dickey
The Songs of Your Life $20.00 CD The Crew Cuts

Sha-Boom, Sha-Boom
Till Then / P. S. I Love You
Whispering Bells
Graduation Day
Book of Love
You Belong to Me
The Lion Sleeps Tonight
Shangri-La
Runaround Sue
Earth Angel
The Wanderer
Go Away Little Girl
Unchained Melody
Find Us Faithful $20.00 CD The Gospel Crew Cuts
Midnight Cry
Find Us Faithful
Swing Low / Swing Down
Just a Little Talk With Jesus
Peace In the Valley
Heavenly Journey Medley
Sweet, Sweet Spirit
Just a Closer Walk With Thee
Up and Away Medley
Doxology
Feelin' Fine
How Great Thou Art
Song of Blessing
To purchase
email your request to JosephTDickey@gmail.com

$20 per CD 2 for $35 3 for $45

Plus Shipping & Handling





Stories I've Told More Than Once


Funny, irreverent, insightful recollections from a not-so-average Joe
About this book . . .
Self-deprecating, touching, instructive, humorous, perhaps even, for some, life-altering -- how many books have you read that deserve that many diverse adjectives? Stories I've Told More Than Once is about the author; it's about Perry Como and Sammy Davis, Jr.; it's about good and bad deeds; it's about births and funerals, the Air Force, the Lakers and Dodgers, Vin Scully, Ronald Reagan, Shaquille O'Neal's shoes, and the Voice of God.
It's about much more than that.
When you go the the Table of Contents and read the titles of the stories in this book, you will find that some of them were written just for you!
Joe Dickey has led a full and interesting life and he has stories to tell. Here they are!
To purchase Stories I've Told More Than Once
email your request to JosephTDickey@gmail.com


$20 per Book

Plus Shipping & Handling
To purchase Stories I've Told More Than Once
email your request to JosephTDickey@gmail.com


$20 per Book

Plus Shipping & Handling